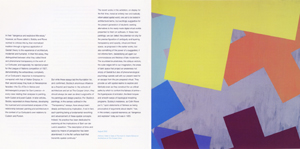 SLUTZKY: RECENT WORK

Slutzky's paintings, in the senses outlined in the Transparency essays, have always been deeply architectural by implication, if not in fact, each painting being a fundamental reworking and advancement of these spatial concepts.—Anthony Vidler

This catalog celebrates an exhibition of 28 recent paintings by Robert Slutzky, works which elaborate the theme of 'transparency' that the painter has explored over the last fifty years. This catalog collects 27 full-color illustrations of these paintings, along with generous examples of Slutzky's earlier work, to critically examine how the painter's manipulation of color and transparency have transgressed the modernist canon of flatness. "The primary subject of my painting is color," Slutzky explains, "For this reason I call it color/structure painting. Turning its back on illusionism and allegory, this kind of art attempts to define its own universe of meanings, and in the polemical act of purifying itself from extraneously derived languages and imageries, aspires to ineffability."

The catalog contains a foreword by Dean Anthony Vidler that places Slutzky's paintings in dialogue with his seminal essay, Transparency: Literal and Phenonmenal, (written with Colin Rowe in 1947); an interview with Slutzky by Emmanuel J. Petit that discusses the painter's critical strategies of artistic production; an essay by Robert C. Morgan that examines Slutzky's conceptual position in the art historical tradition of Leon Battista Alberti and Josef Albers; and an essay by Robert Slutzky with Joan Ockman on metaphor in his work. This evaluation of Slutzky's work makes it evident that, in the words of by Robert C. Morgan, "To study—and therefore enjoy—a painting of Robert Slutzky is to become a part of it."

Professor Robert Slutzky taught at The Irwin S. Chanin School of Architecture from 1968–80, and at the School of Art from 1980-90. Published to coincide with an exhibition in the Arthur A. Houghton Jr. Gallery from 17 September to 29 October 2002. Designed by Brett Synder.

NY: THE IRWIN S. CHANIN SCHOOL OF ARCHITECTURE OF THE COOPER UNION, 2002.
52 PAGES. 9 X 9.
76 ILLUSTRATIONS (15 FULL-SIZE), ALL IN COLOR.
SOFTCOVER, $20.00.