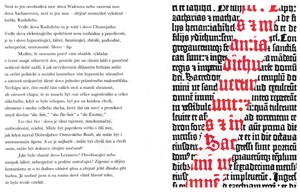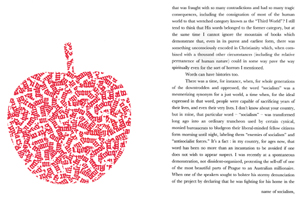 A WORD ABOUT WORDS
Václav Havel with illustrations by Jirí Kolár

Alongside words that electrify society with their freedom and truthfulness, we have words that mesmerize, deceive, inflame, madden, beguile, words that are harmful—lethal even.—Václav Havel

Originally delivered as an address to the Frankfurt Book Fair in 1989, during the collapse of communist Europe, Havel's text A Word About Words is a reflection on the relation between words and freedom and the mysteries that words have woven in human history. For Havel, words are mysterious, ambiguous, and ambivalent and their duplicity is such, that, while they could signify "the first glimmer of hope for a Europe without cold wars or iron curtains," as Havel writes, they also provided a precondition for the removal of freedom. One of the most important writers of the late twentieth century, Havel knew the binds of language well, having been jailed as a dissident for his drafting of Charter 77 (1977), the founding document of political resistance in Czechoslovakia. Twenty-six years later, the Chamber of Deputies elected Václav Havel to be the first President of the independent Czech Republic.

Havel's text is accompanied by 18 full-color illustrations by the Czech poet and artist Jirí Kolár. Using a fragment of Gutenburg's 42-line Bible as a point of graphic departure, these illustrations show Kolár's fascination with the word as both a means of poetic expression and a graphic image. As John Hejduk acknowledges in his afterword, Václav Havel has always given his words freely with an awareness that, as Havel writes, "all the important events in the real world—whether admirable or monstrous—always have their prologue in the realm of words."

Introduction, Jirí Setlík. Afterword, John Hejduk.
Co-designed by George Sadek and James Nix.

NY: THE COOPER UNION PRESS,
PUBLISHED IN COOPERATION WITH THE V HAVEL SECRETARIAT IN PRAGUE, 1992.
62 PAGES, 11 1/2 X 17.
18 ILLUSTRATIONS, ALL IN COLOR.
HARDCOVER, $200.00. LIMITED EDITION OF 500 COPIES.